Beach House
Beach House self-catering holiday cottage accomodation.
Beach House is a traditional two-storey island house built around 1895. It has two double bedrooms upstairs and a twin bedroom downstairs, so can accomodate up to six people sharing depending on sleeping preferences. It has one bathroom and toilet, with bath and shower (newly installed, Spring 2013). There is a comfortable lounge/living room, and a relatively modern kitchen extension on the back.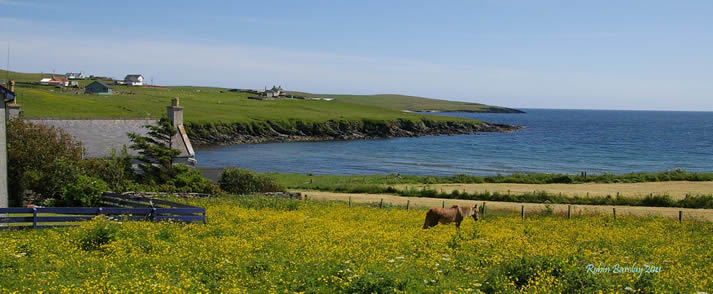 Equipment
Heating is by electric storage radiators (the one in the lounge has additional convection heating), and panel heaters in the bedrooms. There are extra heaters available if needed. The house is fully double glazed and the loft is insulated. There is an open fire in the lounge, but we recommend that you don't use it unless you are experienced with open fires (you will have to purchase fuel [coal or peat] and kindling from local merchants, and dispose of ash when cool). Water heating is by electric immersion heater (switch in the kitchen). There is a digital TV with cable internet connection (e.g. for BBC iPlayer) and integral DVD player. There is BT Broadband access (get the secure wireless connection code from the BT box, or connect by cable), and a landline telephone (not charged, local use only preferred, except in emergency - we will bill you for excessive charges). Local mobile (cellphone) access is best on Vodaphone, patchy on O2, and unreliable with anything else. There are various radios, CD and tape-casette players. There is an electric cooker, kettle, coffee-maker and microwave in the kitchen, and a fridge and washing machine (no dishwasher), and it is well stocked with cooking utensils, cutlery, crockery and other implements. We usually leave non-perishable foodstuff for the next guests (check use-by dates) but dispose of perishable items on leaving. There are lots of books and board games (please don't take these away). Linen (bedding and towels) is supplied but please use your own towels for the beach. You are welcome as our guests - please treat the house and contents with respect, it was our family home and we use it regularly - and leave it clean and tidy.
Access
Access is from the road (car park area) by the path behind the neighbouring house to the back door. There is paving around the house (access to the front door), and the front garden gate leads out on to the old path to the beach. This is now little used (the beach is now routinely accessed by a track from the car park) so the old path will get overgrown if not trampled down by regular use - so please trample. There is also access to the field next to the house by a gate between the kitchen and shed, but don't trample the hay before it is cut (go around the edge) or let any animals out if there are any in the field (sheep, possibly) - otherwise use as required (a nice sheltered sunny spot by the south gable end, also good for exercising dogs) but replace the gate tied-up before leaving.